Ryougi Shiki featured as Assassin and Saber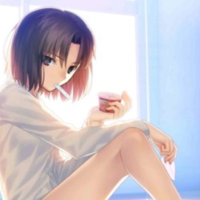 From February 25 through March 9th, smartphone Fate/Grand Order is presenting its first collaboration, Kara no Kyoukai - Garden of Sinners. Completing missions will award copies of the limited 4★ Ryougi Shiki (Assassin) with a 5★ (Saber) version of that series' heroine also available.
Aniplex describes the series
"the Garden of sinners" is a series of hit cult novels written by KINOKO NASU of TYPE-MOON ("Tsukihime -Lunar Legend-," "Fate/stay night") and published in the KODANSHA BOX series. The best-selling novel series has since been adapted into seven fully-animated theatrical films by one of the most renowned anime studios, ufotable ("Fate/Zero," "Fate/stay night [Unlimited Blade Works]"). Each corresponding movie directly covers each of the original seven chapters. In Japan, the series of movies were released in theaters, beginning December 2007. Each successive release became a box office smash with record high attendance.

After lying in a coma for two years caused by a traffic accident, Shiki Ryougi awakens with amnesia. Inexplicably, she finds, in turn, that she has also obtained the "Mystic Eyes of Death Perception" in which she can see the invisible lines of mortality that hold every living and non-living thing together. Working for a small independent agency, Shiki attempts to unravel the baffling mystery behind a series of abnormal, horrifying incidents. Are they a foreshadowing that leads to something even more tragic and ominous? Things are not what they appear to be on the surface, but what dark revelations lie underneath? In this modern occult-action thriller, Shiki must tackle supernatural incidents with her special abilities while searching for her purpose for living.
4★ Ryougi Shiki (Assassin)
5★ (SSR) Ryougi Shiki [Saber]
Craft Essences
Decapitating Bunny 2016 - illustrated by Sudou Tomonori (ufotable)m featuring Ryougi Shiki from Type-Moon's April Fools 2013.
Threefold Barrier - illustrated by Takahashi Takuro (ufotable) featuring Araya Souren
Summer's Futuresight - by Kikuchi Jun'ya (ufotable) - featuring Seo Shizune
Refrain - by Kikuchi Jun'ya (ufotable) - featuring Kamekura Mitsuru and Ryougi Mana
Peerless Puppeteer - by Sudou Tomonori (ufotable) - featuring Aozaki Touko
Mature Gentleman - by Sudou Tomonori (ufotable) - featuring Kokutou Mikiya
Vivid Dance of Fists - by Vivid Dance of Fists - featuring Kokutou Azaka
Mystic Eyes of Distortion - Shiojima Yuka (ufotable) - featuring Asagami Fujino
Sprinter - Shiojima Yuka (ufotable) - featuring Enjou Tomoe
Repeat Magic - by Shiojima Yuka (ufotable) - Cornelius Alba
Clips/loops from the Kara no Kyoukai original soundtrack, composed by Kajiura Yuki:
Quest hub
Battle

Fate Battle Theme
via Type-Moon Wiki Fate/Grand Order Wiki, Fate/Grand Order Cirnopedia and Grand Order Reddit
------
Scott Green is editor and reporter for anime and manga at geek entertainment site Ain't It Cool News. Follow him on Twitter at @aicnanime.