Interview video with Misaki Momose (Lisa Mishima) is also posted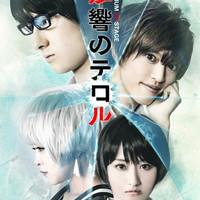 NEGA has released a main visual for the the upcoming stage play adaptation of the 2014 TV anime Terror in Resonance, featuring its four main cast: Ryunosuke Matsumura (Nine), Mashu Ishiwatari (Twelve), Mugumi Han (Five), and Misaki Momose (Lisa Mishima). It is based on the anime's main visual also featuring the same four characters.
The stage play titled "Premium 3D Stage Terror in Resonance" is directed by 39-year-old film director Shutaro Oku, who recently worked on Ghost in The Shell ARISE: GHOST is ALIVE. It is scheduled to be performed seven times at Zepp Theater Roppongi in Tokyo from March 2 to 6. 7,500-yen advance tickets are available at major ticket agencies.
Stage play main visual
TV anime main visual
Interview video with Misaki Momose (Lisa Mishima)
---
Main Cast Visuals:
Nine: Ryunosuke Matsumura/Twelve: Mashu Ishiwatari
Five: Megumi Han/Clarence: Chad Mullane
Kenjiro Shibazaki: Eiji Takikawa/Hamura: Katsuhiko Ibuka
Kurahashi: Naoya Goumoto/Mukasa: Mitsuaki Kanuka
Lisa Mishima: Misaki Momose/Ohsawa: Asami Yoshikawa
CM announcing the main cast
Source: press release
© "Terror in Resonance" Production Committee