Selections are made by a committee of booksellers based on works compiled into collections releases in 2015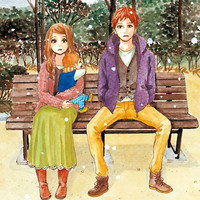 Japanese newspaper The Asahi Shimbun has announced the finalists for the 20th Osamu Tezuka Cultural Prize. Asahi Shimbun describes the award as "honoring the late Osamu Tezuka, an artist who left an indelible mark on the nation's manga culture." Its selections are made by a committee of booksellers based on works compiled into collections released in 2015. The winner will be published in the paper in late April, then receive the award in a ceremony May 20th.
Finalists include
Orange by Ichigo Takano - volume 5 released November 1th
"What can I do now to prevent a future without Kakeru?" In the spring of my second year of high school, I received a letter from "myself", ten years in the future. It urged the 16-year-old me to take action so I wouldn't have the same regrets...
Golden Army by Sataru Noda volume 4 released September 18th (volume 5 released Jaunuary 19th, 2016).
A historical manga abouta Russo-Japanese War veteran to heads into Hokkaido during a gold rush.
Kodoku no Gourmet by Masayuki Kusumi and Jiro Taniguchi - secon collection released September 27th
A traveling salesman tastes the dishes of Japanese
Chihayafuru by Yuki Suetsugu - Volume 29 release October 13th (volume 30 released january 30th, 2016)
Chihaya Ayase has spent most of her life supporting her sister's model career. When she meets a boy named Arata Wataya, he thinks Chihaya has potential to become a great karuta player. As Chihaya dreams of becoming Japan's best karuta player, she is soon separated from her karuta playing friends. Now in high school, Chihaya still plays karuta in the hope that she will one day meet her friends again.
Chou-no-Michiyuki by Kan Takahama - collected January 30th, 2015
Story of a Maruyama courtesan and gravely ill man.
Hanagami Sharaki by Kei Ichinoseki - collected March 20th
Tribute to kabuki and ukiyo-e arts of the Edio Period
Yotsuba&! by Kiyohiko Azuma - volume 13 released November 27th
North American publisher Yen Press describes the series
Yotsuba is a strange little girl with a big personality! Even in the most trivial, unremarkable encounters, Yotsuba's curiosity and enthusiasm quickly turn the everyday into the extraordinary! Join Yotsuba's adventures as she expores the wonders of the world around her!
-------
Scott Green is editor and reporter for anime and manga at geek entertainment site Ain't It Cool News. Follow him on Twitter at @aicnanime.