Third TV anime is also directed by Kazuhiro Takamura (Strike Witches, Vividred Operation )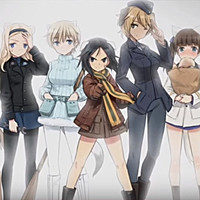 The official website for the Strike Witches anime franchise today posted a two-minute first PV for its upcoming third TV series Brave Witches featuring the 502nd Joint Fighter Wing squadron girls. The video was originally screened at the "Strike Witches Minna no Omoide Dekirukoto!" event held at Zepp Tokyo on February 7, and this web version adds an announcement for its 2016 premiere in the end. The site also announced that a teaser site and official Twitter for Brave Witches will open on April 1.
The first season of the Strike Witches TV anime was aired for 12 episodes from July to September 2008, then the second season followed for another 12 episodes from July to September 2010. According to the series' military adviser Takaaki Suzuki, Brave Witches is not the third installment of the Strike Witches series. So it should be considered as a stand-alone new series.
1st PV
Main staff:
Original Story: Humikane Shimada & Project World Witches
Planning: Takeshi Kikuchi, Hironori Kudo
Director/Character Designer: Kazuhiro Takamura
Original Character Designer: Humikane Shimada
Series Composition: Striker Unit
Anime Production: Silver Link.
Production: The 502nd Joint Fighter Wing Squadron 2016
Main Visual
Source: "Strike Witches" anime official website
©2014 Fumikane Shimada,KADOKAWA/The 501st Joint Fighter Wing