"Serious infringement upon the rights of the copyright holder"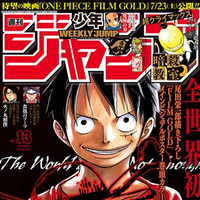 The public trial for Takehisa Hidaka, a 70-year-old Japanese employee at a delivery company, was opened at the Kyoto District Court on March 1. The defendant was accused of stealing copies of the Shonen Jump magazine before it was distributed. The Kyoto Prefectural Police arrested him and four Chinese men on suspicion of copyright infringement on November 13, 2015. The Court sentenced the defendant to 10 months in prison (suspended for three years).
According to the previous report by the police, the defendant stole a copy of the 49th issue of Shueisha's Weekly Shonen Jump while delivering them from a printing factory to another delivery company, and gave it to one of the Chinese at a parking lot. Then other three scanned the latest chapter of Eiichiro Oda's One Piece and uploaded it onto the pirate manga website "mangapanda" on October 29, four days before the issue's official release day. 
The judge Mikiko Watanabe acknowledged that he played an important role in the crime, and also pointed
out that it was a serious infringement upon the rights of the copyright holder, since the (stolen) manga were
translated and distributed online for free. Other four Chinese are still on trial.
As we reported several times, posting magazine pages or articles onto the net before its official release date
is illegal and crime. Shueisha estimates the total financial damage caused by the piracy in the past five years
was about 6.5 billion yen (53 million US dollars).
Source: Sankei
---
Related:
Japanese Police Arrested 44 People for Illegal Uploading in Three Days
30-year-old Unemployed Man Arrested for Uploading "Kingdom" Manga
Man Arrested for Selling Pirated "Sword Art Online" Mouse Pads
38-year-old Man Arrested for Posting "GATE" Episodes onto Video Sharing Site
Another 2 Chinese Arrested for Uploading "The Seven Deadly Sins" Manga
4 Men Arrested for Posting "One Piece" Latest Chapter Before Release
Man Arrested for Selling Pirated "Love Live!" Badges
Police Arrested Man Who Posted Robot Anime Videos, Theme Songs
50-Year-Old Unemployed Man Arrested for Uploading Manga via PerfectDark
High School Teacher Arrested for Uploading "Kuroko's Basketball" Manga
Unemployed Man Arrested for Uploading "Liar Game" Manga
40 People Arrested for Illegal Uploading of Anime, TV Drama in 3 Days
45-Year-Old Man Arrested for Selling Pirated Anime Stickers in Akihabara
Government Official Arrested for Posting "Gundam Unicorn" Episodes onto Video Sharing Site FC2
48-year-old Man Arrested for Uploading "Yo-Kai Watch" Anime Episode
Man Arrested for Selling One Dollar Bills with "One Piece" Images
46-year-old Unemployed Man Arrested for Posting "Maken-Ki! Two" on Video Sharing Site FC2
Two Japanese Men Arrested for Uploading "Berserk," "K-ON!" Manga