Next 9th volume is scheduled to be released on June 26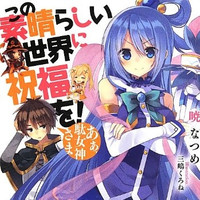 It has been confirmed that the sales of Natsume Akatsuki's fantasy comedy light novel series Kono Subarashii Sekai ni Shukufuku wo! (KonoSuba: God's Blessing on This Wonderful World!) has increased three times in nine months after the production of its TV anime adaptation was announced in May 2015. The adaptation is animated by Studio DEEN and has been aired since January 2016.
Before the announcement, the novel series released eight volumes (including spin-off) and its total print run was 400,000 copies, 50,000 per volume. Then the sales started growing rapidly, reaching one million print run with 10 volumes by the end of 2015. As of now, the 11-volume series has a total of 1.5 million copies in print, each volume has 136,000 copies.
The pre-order limited edition of the next 9th volume to be released in June will come with a Blu-ray disc containing an original anime episode. Its story introducing a new character Yunyun (voiced by Kana
Hanazawa in the previous drama CD) is newly written by the novel author.
Novel 1st and 9th volume cove illustrations
CM for the 9th volume
via: Mantan Web
© Natume Akatsuki, Kurone Mishima/KADOKAWA
© Natume Akatsuki, Kurone Mishima/KADOKAWA/Konosuba Production Committee