Directed by Masanori Murakami (Densha Otoko)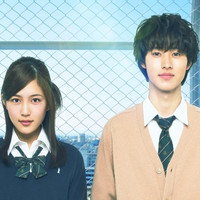 An official website and Twitter for the upcoming live-action film adaptation of Matcha Hazuki's Isshukan Friends./One Week Friends open today, announcing its two main cast, director, and release schedule for February 2017.
21-year-old fashion model/actress Haruna Kawaguchi (Haruhi Fujioka in the Ouran High School Host Club TV drama) is cast as the main heroine Kaori Fujimiya who loses her memories concerning friends every week. And 21-year-old Kento Yamazaki (Your Lie in April, Wolf Girl and Black Prince) plays Yuuki Hase, who is trying to be Kaori's friend every week from the beginning.
52-year-old Masanori Murakami, best known for the live-action film adaptation of the 2channel-born novel Densha Otoko in 2005, is attached to direct on the screenplay by Yoko Izumisawa (Garo: Gold Storm Sho). The film is slated for February 2017, distributed by Shochiku.
Haruna Kawaguchi and Kento Yamazaki
---
The manga was serialized in Square Enix's Monthly Gangan Joker from 2012 to 2015, then compiled in
seven tankobon volumes. It has printed over 1 million copies in Japan. A TV anime adaptation produced
by Brain's Base was aired for 12 episodes from April to June 2014.
Manga tankobon 1st and 7th volume covers
Anime Blu-ray 1st and 6th volume jackets
Source: "One Week Friends" live-action film official website, Twitter
© Matcha Hazuki/Square Enix, Movie "One Week Friends" Production Committe