Directed by Norihiro Naganuma (Yowamushi Pedal The Movie)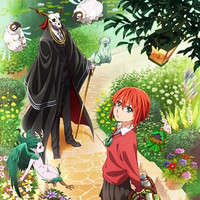 A three-episode OAD project based on Kore Yamazaki's fantasy manga series Mahou Tsukai no Yome/The Ancient Magus' Bride is officially announced today on March 10. A 160-second "Grand PV" to introduce its world view is now online.
Grand PV
The manga was first serialized in MAG Garden's Monthly Comic Blade from November 2013 to August 2014,
then moved to the publisher's Monthly Comic Garden. A total print run of the tankobons has reached 2.5 million
copies, and the latest 5th tankobon volume is just published today in Japan. The 2,000-yen limited edition of
the volume comes with an audio drama CD and its voice cast will reprise their roles in the OAD.
The three OAD episodes based on the manga author's original story "Hoshi Matsu Hito" (The Person Who is
Waiting for Stars) will be bundled with the manga's upcoming 6th (September 10, 2016), 7th (March 10, 2017),
and 8th volume (September 9, 2017). The first part is also scheduled to get theatrical screenings for a limited
time of two weeks from August 13.
The story centers on 15-year-old Japanese girl Chise Hatori who has been neglected by her family and
others because of her ability to see inhuman beings. She goes to England on a mysterious man's advise,
then sells herself to Elias Ainsworth at a slave auction. Elias, who is a "magus," a sorcerer of great power,
takes her to his home, and declares that she will be his apprentice and bride.
---
Main staff:
Director: Norihiro Naganuma (Yowamushi Pedal The Movie)
Scenario: Aya Takaha (Psycho-Pass)
Character Design: Hirotaka Kato (Hozuki no Reitetsu)
Arts: Bamboo
Music Production: Flying Dog
Anime Production: WIT STUDIO (Attack on Titan)
Distribution: Shochiku
Planning, Production: Production I.G
Main Voice Cast:
Chise Hatori: Atsumi Tanezaki (Moe Nishinosono in Subete ga F ni Naru)
Elias Ainsworth: Ryota Takeuchi (Heroman in HEROMAN)
Ruth: Kouki Uchiyama (Banagher Links in Mobile Suit Gundam Unicorn)
Silky: Aya Endoh (Totoko in Osomatsu-san)
Anime Main Visual
月刊コミックガーデンにて絶賛連載中のヤマザキコレが描いた正道ファンタジー『魔法使いの嫁』。アニメ化プロジェクトが始動! https://t.co/6mpgNinENe #mahoyome #まほよめ pic.twitter.com/VF1y6GPtoL

— 魔法使いの嫁アニメ化プロジェクト (@mahoyomeproject) March 10, 2016
Manga Tankobon 1st and 2nd Volume Covers
3rd and 4th
5th
Source: "Mahou Tsukai no Yome" anime project official website, Twitter
Copyright © 2016 MAG Garden corp. All rights Reserved.