Kadokawa keeps the new writer's name secret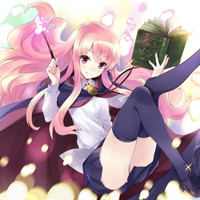 According to the latest Oricon report, the long-awaited 21st volume of the late Noboru Yamaguchi's light novel series Zero no Tsukaima/The Familiar of Zero, took first place in its weekly light novel sales chart with 34,656 copies, and also ranked second in its overall bunko sales chart. The first volume in five years, titled "Rokusennen no Shinjitsu/The Truth of 6,000 Years," was released from Kadokawa's MF Bunko J imprint on February 26.
The previous week's top-selling light novel was the 15th volume of Satoshi Wagahara's Hataraku Maou-sama! (The Devil Is a Part-Timer!) that sold 12,367 copies, and the second top-selling title of this week is the third volume of Ryo Shirakome's Arifureta Shokugyou de Sekai Saikyou (From Common Job Class to the Strongest in the World) with 23,538 copies.
21st volume "The Truth of 6,000 Years" cover
The author passed away at age of 41 due to an unspecified cancer on April 4, 2013, and the last 20th volume
written by him was published in February 2011. The series has printed 6.6 million copies worldwide, and was
adapted into TV anime four times.
Before he died, Yamaguchi left plots for the last two volumes of the series and the publisher decided to continue
the series based on it with a different writer. While the original illustrator Eiji Usatsuka has returned, the new
writer chosen by Yamaguchi has kept secret and no mention of his/her name on the cover of the new volume.
The next 22nd volume will be the last of the series.
Source: Oricon
© Noboru Yamaguchi
© KADOKAWA CORPORATION 2015