Ichidai Matsuda (Onikirimaru) writes and directs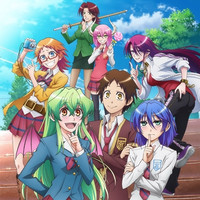 It is confirmed today that a stage play adaptation of Eiji Masuda's comedy manga series Jitsu wa Watashi wa/My Monster Secret is in the works for May 2016. Ichidai Matsuda, who previosuly worked on the stage play adaptation of Kei Kusunoki's horror action manga Onikirimaru in 2013 and 2015, writes and directs the play for DAX Production. 24-year-old actress Rin Asuka, best known as Wakana Sonozaki in Kamen Rider W, is cast as the main heroine Yoko Shiragami. As you can see the list below, half of its main cast members are active or ex-idols.
The play is scheduled to perform eight times at Shinjukumura LIVE in Tokyo from May 11 to 15. Advance sales of the tickets will begin on Confetti at 12:00 on March 12.
The manga has been serialized in Akita Shoten's Weekly Shonen Champion since 2013. Currently 15 tankobon volumes are available, and its total print run has reached 1.5 million copies. A 13-episode TV
anime adaptation produced by TMS Entertainment was aired in Japan from July to September 2015.
Stage play main cast:
Asahi Kuromine: Ryo Ohishima (Birthday in the Hamatora stage play)
Yoko Shiragami: Rin Asuka (Wakana Sonozaki in Kamen Rider W)
Nagisa Aizawa: Tomoka Wakabayashi (ex-SKE48 member)
Mikan Akemi: Asuka Nagayoshi
Shiho Shishido: Konona Shiba (Yoko Littner in the Gurren Lagann stage play)
Akari Koumoto: Tomoko Kato (ex-SKE48 member)
Akane Koumoto: Yurika Takagi (Sweety member)
Karen Shirogane: Nanako Miura (Stereo Tokyo member)
Rin Kiryuin: Karin Takahshi (Prizmmy☆ member)
Charisma Chijyo: Saemi Shinahama (ex-SDN48 member)
Shirou Shishido: Hyouga Tanaka (ex-KAT-TUN member Kouki Tanaka's younger brother)
Genjiro Shiragami: Tatsuki Muro (ex-Kansai Johnny's Jr. member)
Manga tankobon 1st and 15th volume covers
TV anime main visual
via: Comic Natalie
© Eiji Masuda/Akita Shoten
© Eiji Masuda (Weekly Shonen Champion)/JitsuWata Production Committee