The number of the theaters has increased from 14 to 54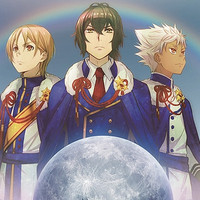 Despite its very limited opening with only 14 theaters on January 9, KING OF PRISM by Pretty Rhythm is still going strong at box office after two months. It was reported by the director Masakazu Hishida at the "Thank You" screening event in Shinjuku yesterday that the boys idol-featured film has earned an impressive 250 million yen on 150,000 admissions from its domestic run of two months. The number of the theaters has also increased from 14 to 54 in total.
サンキュー上映に至るまでプリズムの煌めきを広めてくれた観覧人数は15万人…!皆様が3ヶ月目までの虹をかけてくれました。ありがとうの代わりに好きって言わせてください♡https://t.co/lXqbHZVfpM #kinpri pic.twitter.com/c3XnRGM7UD

— 「KING OF PRISM」全国上映中 (@kinpri_PR) March 9, 2016
From the "Prism Star Support" screening event at the Shinjuku Wald 9 theater on January 17
The story of the all-new film centers on three-member male idol unit Over The Rainbow, voiced by Tetsuya
Kakihara (Koji kamihama), Tomoaki Maeno (Hiro hayami) and Toshiki Masuda (Kaduki NHishina), and their
battle in "Prism King Cup," the ice skate competition held once in four years. The unit originally appeared in
Pretty Rhythm: Rainbow Live, the third Pretty Rhythm TV anime series aired from April 2013 to March 2014.
The director Hishida previously directed four Pretty Rhythm TV anime: Aurora Dream, Dear My Future, Rainbow
Live, and All Star Selection.
Trailer
3-minute special PV for Over The Rainbow narrated by Hiro Hayami (CV: Tomoaki Maeno)
Flyer visual
Source: "KING OF PRISM by Pretty Rhythm" official Twitter
© T-ARTS/Sophia/King of Prism Production Committee