PriPara franchise's first musical film hits Japanese theaters this Saturday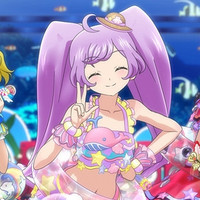 Two days before its opening in Japan, Oricon's official YouTube channel today exclusively posted a two-minute OP song clip from the PriPara anime franchise's upcoming 3rd film PriPara Mi~nna no Akogare♪ Let's Go☆PriPari (PriPara: Everyone's Yearning♪ Let's Go☆PriPari).
The franchise's first musical-themed feature film is directed by Makoto Moriwaki, best known for her directorial works for the Detective Opera Milky Holmesanime series since 2010. The highly anticipated film opens in Japan this Saturday, March 12.
OP song clip
The third film's story begins when the protagonist Laala Manaka receives an SOS from Falulu Bokerdole
in France's PriPari, the sacred place for the PriPara idols. Laala then learns that the whole PriPara world
will soon disappear because PriPari has started losing its "KiraKira" power. To save the place and Falulu,
the PriPara idols have to perform at the stages around the world.
Trailer
2nd poster visual
1st poster visual
Source: Oricon Style
©T-ARTS/syn Sophia/Movie PriPara Production Committee