New TV series will premiere on April 7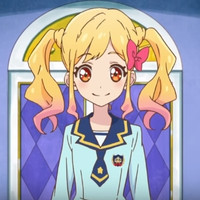 As reported, the Aikatsu! anime franchise will be renewed from this April with a new TV series Aikatsu Stars! featuring the new protagonist Yume Nijino voiced by 16-year-old Miyu Tomita (Otako in Please Tell Me! Galko-chan). Before the TV premiere, her anime voice is introduced in a teaser for the upcoming feature film Gekijouban Aikatsu Stars!/Aikatsu Stars! The Movie. The new TV anime will start on TV Tokyo and its affiliates on April 7, then the feature film edition will follow on August 13.
The current fourth arc of the original Aikatsu! TV anime is scheduled to end on March 31, and the three main voice cast: Sumire Morohoshi (Ichigo Hoshimiya), Azusa Tadokoro (Aoi Kiriya) and Ayaka Ohashi (Ran Shibuki) will continue to jon the new series as different characters: Tsubasa Kisaragi, Yuzu Nikaidou and Yozora Kazumi, respectively.
"Aikatsu Stars! The Movie" teaser
"Aikatsu Stars!" Data Carddass arcade game PV
"Aikatsu Stars!" TV anime main visual
"Aikatsu Stars!" main voice cast:
Yume Nijino: Miyu Tomita (Otako in Please Tell Me! Galko-chan)
Rola Sakuraba: Ayaka Asai (Mio Naruse in The Testament of Sister New Devil)
Koharu Nanakura: Megumi Yamaguchi (Mizuki Kusanagi in The Sky Crawlers)
Ako Saotome: Natsumi Murakami
Hime Shiratori: Minami Tsuda (Yui Funami in YuruYuri)
Tsubasa Kisaragi: Sumire Morohoshi (Ichigo Hoshimiya in Aikatsu!)
Yuzu Nikaidou: Azusa Tadokoro (Aoi Kiriya)
Yozora Kazumi: Ayaka Ohashi (Ran Shibuki)
Source: Bandai Namco Picture's "Aikatsu Stars!" offciail website
©BNP/BANDAI, DENTSU, TV TOKYO