TV anime 2nd season's new OP and ED songs will be released on May 25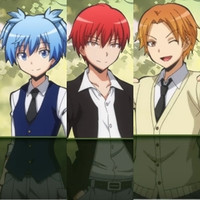 As a one day limited web event for White Day, the official website for the ongoing TV anime Assassination Classroom posted special videos titled "Dokidoki☆Ansatsu Seikatsu: Ansatsu Prince-sama" featuring three male characters: Nagisa Shiota, Karma Akabane and Hiroto Maehara. In the parody videos of otome game (love simulation games for girls), they deliver their answers to your Valentine's Day chocolate. Check their answers below.
"Nagisa-kun After School"
"Karma-kun After School"
"Hiroto-kun After School"
---
In other news, the site announced that the new OP song for the second season, "Bye Bye YESTERDAY" is
performed by the anime's five-member VA unit 3-E Utatan, consisting of Mai Fuchigami (Nagisa Shiota),
Aya Suzaki (Kaede Kayano), Nobuhiko Okamoto (Karma Akabane), Ryota Oosaka (Yuuma Isogai), and
Shintaro Asanuma (Hiroto Maehara). They have performed all three previous OP songs of the anime.
Meanwhile, 25-year-old Japanese singer Shion Miyawaki, who provides the current ED song "Kaketa Tsuki"
(The Waning Moon), will sing the next ED song "Mat Kimi ni Aeru Hi" (The Day I Will meet You Again)
as well. The two CD singles will be released in Japan on May 25.
Source: "Ansatsu Kyoushitsu" TV anime official website
(C) Yusei Matsui/Shueisha, Anime "Ansatsu Kyoushitsu" Production Committee