The final 3rd cour will premiere on April 1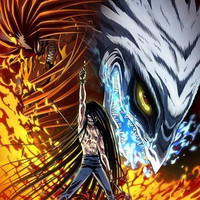 It was confirmed at the advance screening event for the 27th episode "Kaze ga Fuku" (The Wind Blows) of the Ushio and Tora TV anime in Tokyo yesterday that 48-year-old voice actress Megumi Hayashibara, best known as Rei Ayanami in the Evangelion franchise, is cast as the series' main villain Hakumen no Mono. She provided a comment, "I have played various strong characters, but this one is the extremely strongest."
And it was also announced that the anime's final third cour will premiere with the 27th episode on Tokyo MX at 22:30 on April 1 (JST) and will run till the end of June. The first 26 episodes was aired from July to December 2015. The final cour will cover till the end of the manga story with 33 tankobon volumes, the final showdown with Hakumen no Mono.
Megumi Hayashibara
3rd cour main visual
Source: "Ushio and Tora" TV anime official website
© Kazuhiro Fujita, Shogakukan/Ushio to Tora Production Committee