Directed by Kyo Yatate (Puchimas! Petit Idolmaster animator)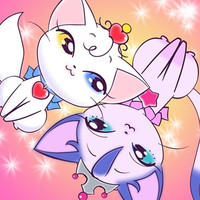 A cat princess-featured anime series CoCO & NiCO will premiere with Japanese audio and English subtitles on NHK WORLD/jibtv on April 8, then will be followed by Japanese TV stations including Tokyo MX and Chukyo TV. The 60-second series is scheduled to run for 39 episodes. It is a co-production work among MMDGP, Japan International Broadcasting, Tokyo MX, Futaba, and Sony Music. Kachidoki Studio (Neko no Dayan) works on anime production,
Akemi Takada, who has been famous for her character design works for many popular anime series in the 1980s, such as Urusei Yatsura, Creamy Mami the Magic Angel, Kimagure Orange Road, and Mobile Police Patlabor, designs its animal characters. Kyo Yatate, recently worked on Puchimas! Petit Idolmaster as an animator, is attached to direct.
The story follows two sister cat CoCO (CV: Kaoru Katai) and NiCo (Natusmi Sugita), who have been
training to be Cat Princess under the supervision of their teacher cat Oppenheimer (Ayana Taketatsu).
Katai and Sugita also perform the OP song "Ashita Hallelujah!" and ED "Princess mo Rakujyanai (Princess
is No Easy Job)."
【ニュース】人気イラストレーター高田明美さんが生み出したのは猫のお姫様!? 猫プリンセスアニメ『CoCO & NiCO』が4月放送決定 https://t.co/dP3h59wAmi pic.twitter.com/k30m6zQqUQ

— アニメイトTV公式 (@animate_tv) 2016年3月17日
Source: Animate. TV