Directed by Yuichiro Hayashi (Garo: The Animation)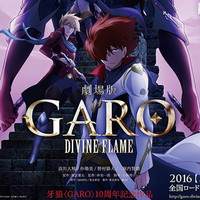 The official website for Garo Movie: Divine Flame, the 10th anniversary film of the Garo action horror franchise, has announced that the sequel film to the 2014 TV anime series Garo: The Animation is scheduled to be released in Japan on May 21. Special advance tickets with a clear file featuring the poster visuals will go on sale at theaters on March 26. The 1st Garo TV series was aired for 24 episodes from October 2014 to March 2015. The story of the all-new film is set four years after it.
The TV series director Yuicho Hayashi continues to work on the sequel film, on screenplay by Yasuko Kobayashi (JoJo's Bizarre Adventure, Attack on Titan). MAPPA (Terror in Resonance, Ushio and Tora) again works on anime production. All of the main voice cast of the TV series reprise their roles.
【劇場版 牙狼〈GARO〉-DIVINE FLAME-】
3/26(土)より、公開劇場にて全国共通特別鑑賞券の販売開始!特典はクリアファイル!2種のうちお好きな方をお選びいただけます! https://t.co/V3pHbpjvJh pic.twitter.com/bPloAG6mmm

— アニメ牙狼公式【炎の刻印/紅蓮ノ月】 (@anime_garo) March 18, 2016
Latest teaser
Poster visual
【劇場版 牙狼〈GARO〉-DIVINE FLAME-】公開は5月に決定!!そして第2弾ビジュアル解禁! それぞれの視線の先にあるものとは・・・!https://t.co/R20HWLX66S #garo_anime pic.twitter.com/0c7nY10aPs

— アニメ牙狼公式【炎の刻印/紅蓮ノ月】 (@anime_garo) February 11, 2016
Source: "Garo Movie: Divine Flame" official website
© 2016 "DIVINE FLAME" Keita Amemiya/Tohoku Shinsha