"Twin Star Exorcists" starts 4/6, "Anne-Happy" begins on 4/7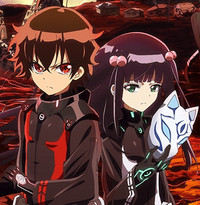 Spring is in the air, and so are new anime announcements here at Crunchyroll News! Things kick off with a double-header with word that Twin Star Exorcists and Anne-Happy are set to begin streaming soon...
Twin Star Exorcists, based on the manga series by Yoshiaki Sukeno, will be premiering starting April 6th at 4:00AM PST and will be available to Crunchyroll Members worldwide excluding Asia.
Meanwhile, Anne-Happy, adapted from the manga series by Cotoji, streams starting April 7th at 7:00AM PST and will be available to Crunchyroll Members worldwide excluding Asia.
About Twin Star Exorcists
Grotesque monsters known as Impurities reside in Magano, a realm parallel to the present day. Exorcists purify these evil apparitions to protect the people. Rokuro Enmadou is opposed to becoming an exorcist, even though he has the talent to be one, but an oracle gives him the title of "Twin Star Exorcist," the name bestowed upon married exorcists. Benio Adashino, the girl who receives the title along with Rokuro, is determined to exorcise all the Impurities in the world. The two find themselves wrapped up in more and more battles together as the Twin Star Exorcists, and as Rokuro watches Benio fight with the wish to become stronger, he's forced to face the weakness he's lived with ever since the Hiinatsuki Tragedy. Now that his eyes are turned toward the battle again, thanks to Benio, Rokuro makes up his mind to fight as an exorcist once more, and the Twin Star Exorcists take on the most powerful of Impurities together!
About Anne-Happy
A group of pitiable girls live their days with energy and cheer in this encouraging school comedy.


All the students of Tennogofune Academy's Class 1-7 seem to be plagued by ""bad karma,"" or misfortune. Hanakoizumi An the unlucky, Hibarigaoka Ruri of the tragic love stories, Kumegawa Botan with her perpetually poor health, Hagyuu Hibiki with her bad sense of direction, and Ekoda Ren with constant women troubles have just joined the class, and they're all doing their best to live their high school lives as happily as they can...