"Love Live! Sunshine" unit Aqours members will join this summer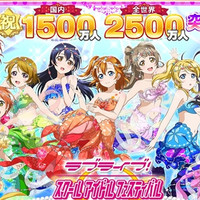 Bushiroad announced today on March 22 that Love Live! School Idol Festival, its co-produced social rhythm game with KLab for iOS and Android, had attracted 15 million registered users in Japan and 25 million worldwide as of March 19, 2016. It reached the 14 million mark in Japan on January 18 of this year, then added another one million in two months. Its total users worldwide surpassed 20 million in September 2015. Meanwhile, there has been no official announcements on the actual number of its active players.
It is also announced that a major update is scheduled for this summer, the nine members of the new idol unit Aqours from the Love Live! Sunshine series will join the game then. More details will be revealed at the upcoming Schfes Thanks Festival 2016 to be held at Ikebukuro Sunshine City in Tokyo on May 20 and 21.
Main visual for "Schfes Thanks Festival 2016"
Source: press release
© Project Love Live! © KLabGames © bushiroad