Directed by Masaharu Watanabe (Wakaba Girl)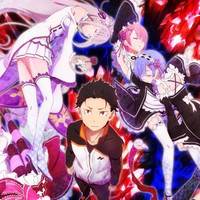 The official website site for the upcoming TV anime adaptation of Tappei Nagatsuki's light novel series Re: Zero Kara Hajimeru Isekai Seikatsu (Re: Life in a different world from zero) has announced its premiere schedule starting on April 3 and has also confirmed the premiere episode will be one hour-long.
Premiere schedule in Japan:
April 3: TV Tokyo (25:35-)
April 5: TV Osaka (25:35-)
April 7: TV Aichi (26:05-)
April 8: AT-X (21:30-)
As reported, 19-year-old anison singer Konomi Suzuki's 10th single "Redo" will be used as the OP song,
while [email protected]'s contemporary creative unit featuring vocalist Mayu, MYTH & ROID provides the ED
"STYX HELIX."
The fantasy series was originally posted on the amateur novel contribution site "Shousetsuka ni Narou"
(Let's Become a Novelist), then has been published from Kadokawa's light novel imprint MF Bunko J
since January 2014. The latest 8th volume is set for a release on March 25. The story centers on a
normal high school student Subaru Natsuki who is summoned to another world. His only special ability
is "Returns by Death," a power to rewind time by dying.
Main Visual
TVアニメ『Re:ゼロから始める異世界生活』の2016年4月放送開始が発表されました! そして、キービジュアルも公開です! ドン!  https://t.co/cHScDQ2OTa #rezero pic.twitter.com/kHYTtBY1xS

— 『Re:ゼロから始める異世界生活』公式 (@Rezero_official) December 18, 2015
Main Voice Cast:
Subaru Natsuki: Yusuke Kobayashi (Arslan in The Heroic Legend of Arslan)
Emilia: Rie Takahashi (Miki Naoki in School-Live!)
Pack: Yumi Uchiyama (Ruri Miyamoto in Nisekoi)
Felt: Chinatsu Akasaki (Chiwa Harusaki in Oreshura)
Lem: Inori Minase (Nagisa Aizawa in Jitsu wa Watashi wa)
Lam: Rie Murakawa (Hotaru Ichijo in Non Non Biyori)
Beatrice: Satomi Arai (Kuroko Shirai in A Certain Magical Index)
Reinhard: Yuichi Nakamura (Alto Saotome in Macross Frontier)
Main Staff
Director: Masaharu Watanabe (Wakaba Girl)
Series Composition: Masahiro Yokotani (Free!, Jewelpet MagicalChange)
Character Designer/Chief Animation Director: Kyuta Sakai (selector infected WIXOSS、selector spread WIXOSS)
Anime Production: WHITE FOX (Is the Order a Rabbit?, Akame ga KILL!)
Announcement PV
Novel 1st and 8th volume
Source: "Re: Zero Kara Hajimeru Isekai Seikatsu" TV anime official website
© Tappei Nagatsuki, KADOKAWA/Zero Kara Hajimeru Isekai Seikatsu Production Committee