Starts 4/3 at 11:35am PST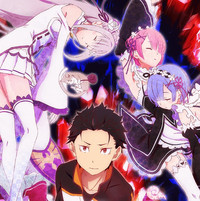 Huzzah! More new streaming anime announcements for the spring season issue forth out of Crunchyroll News today, and the first off the block is Re:ZERO -Starting Life in Another World-, based on the light novel series by Tappei Nagatsuki and illustrated by Shinichirou Otsuka. Animation production is by White Fox of Steins;Gate and Akame ga Kill! fame.
Re:ZERO -Starting Life in Another World-
will premiere Sunday, April 3rd at 11:35AM PST with following episodes airing Sundays at 10:35AM PST and
will be available to Crunchyroll Members worldwide excluding Asia
.
About Re:ZERO -Starting Life in Another World-
Natsuki Subaru, an ordinary high school student, encounters a beautiful silver-haired girl from another world. Subaru wants to stay by her side and help her, but the burden she carries is far beyond anything Subaru imagined. They're faced with one attacking monster after another, betrayal, irrational violence... and finally death. Subaru doesn't want to see her get hurt, so he vows to take down any enemy, any fate that comes his way, to protect her. And so this powerless boy obtains "Return by Death," a unique ability that allows him to turn back time by dying. It becomes the potential to guide all people to a world where everyone can always be smiling, dependent on Subaru's life and loneliness. By using his power, the past can be lost, and memories can be rewritten. Subaru must now fight the fate that dooms him to keep all those forgotten memories hidden within, to be perpetually beaten, to see his own heart wearing down, to wager his life... all to protect the people he cares about. To get back the precious times that he's sure must have happened.
More new anime annoucements later today! In the meantime, let us know how you feel about this on the comments below!