"Shimo no ku" hits Japanese theaters April 29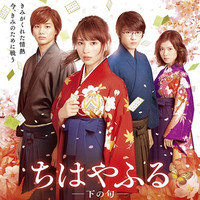 Following the release of the first part "Kami no Ku" last weekend in Japan, Toho today posted a 90-second full trailer for the second and last part of the two-part live-action film adaptation of Yuki Suetsugu's shoujo manga series Chihayafuru. It introduces a climax karuta battle against Shinobu Wakamiya, who is called "The Strongest Queen in History." The second part "Shimo no Ku" (The Second Line) will be released on April 29.
"Kami no Ku" was released on 297 screens in Japan, earning a modest 179,018,300 yen on 146,299 admissions. It ranked 4th in the weekend box office, two positions below the Boku dake ga Imai Machi live-action film. The first part is expected to make around 1 billion yen from its domestic run.
"Chihayafuru: Shimo no Ku" trailer
Teaser
Flyer
Source: "Chihayafuru" live-action film official website
© 2016 Movie "Chihayafuru" Production Committee
© Yuki Suetsugu/Kodansha