Release slated for later this Summer with English dub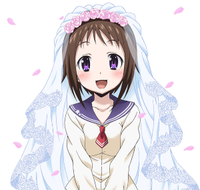 While Media Blasters is at Anime Boston this weekend, they aren't known for delivering panels with announcements and status updates like every other publisher.
Instead, they've been content to dole out announcements through their various social media channels, while their presence at the show is limited to the dealer's room, where they seem to be most comfortable selling their inventory of anime and live-action titles on home video. Which makes it all the more surprising that they would be the one to announce that it has licensed raunchy erotic comedy My Wife Is The Student Council President and further confirming that it will be dubbed in English.
Liberate your love with our newest acquisition, My Wife is the Student Council President-coming this summer! Teaser: pic.twitter.com/bCNGNmER2I

— Media Blasters (@Media_Blasters) March 25, 2016
You can catch the English teaser for the license above from the embedded tweet and check out the series for yourself in the above link, if you haven't seen it yet. Because when I say it's raunchy, you better believe you might want to avoid watching this one anywhere else but at home, in private.
---
Humberto Saabedra is the Owner of AnimeNews.biz and a part-time recording engineer. He can also be found musing on things at @AnimeNewsdotbiz