Starts Monday April 4th at 11:45am PDT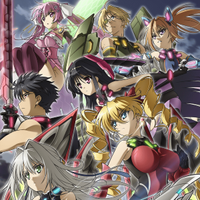 Crunchyroll is proud to announce its latest Spring 2016 anime simulcast in Hundred by Misaki Jun and Ohkuma Nekosuke from Nitro+.
Synopsis
"Hundred" - the only weapon capable of fighting the Savages, mysterious life forms attacking Earth. Hayato enters the battleship university Little Garden in hopes of becoming a Slayer... but his roommate Emile Crossfode, who seems to know a lot about him for some reason, awakens a sort of unsettling nostalgia within him. What's more, right after he joins the school, the strongest Slayer at Little Garden, the "Queen" Claire Harvey, challenges him to a duel!
Hundred will be available to Crunchyroll members worldwide except for Asia