Yen Press Adds more print titles and new licenses to its catalog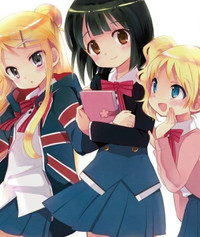 Yen Press took to its panel at Sakura-Con to announce a slew of new licenses as well as a few print releases from current digital-only titles. Without further delay, the complete list follows below.
GRIM REAPER AND FOUR GIRLFRIENDS (digital only)
Story by Shin Suyama
Art by CHuN
Shoujo manga fan Kaoru Minaguchi always preferred the idea of finding his one true love over any harem. But when a shinigami threatens his lonely existence, Kaoru saves his own life by promising to confess to a girl he likes…and somehow ends up with four girlfriends!?
LITTLE WITCH'S NECKLACE (digital only)
By Chinoku
In an old, isolated castle in the south of France lives a tiny witch named Lulu. When she meets a man named Camillo, Lulu's everyday life begins to change little by little…
AOHARU X MACHINEGUN (new print release, digital version currently available)
By Naoe
Hotaru Tachibana is a girl (though all too frequently mistaken for a boy!) who gets sucked into the world of survival games due to her con man of a neighbor—but is there any hope of escape for her?! This will be a print release owing to demand for a print version.
TODAY'S CERBERUS (print release, digital already available)
By Ato Sakurai
As a young boy, an unusual encounter with a three-headed puppy made Chiaki Mikado lose a piece of his soul. Now a teenager, he finds himself unable to enjoy anything, but the three-headed dog is back in human form—rather, forms—to fix all that! Can Chiaki finally find the happiness that has so long eluded him?
ROSE GUNS DAYS SEASON 2
Original Story by Ryukishi07
Art by Nana Natsunishi
The second season of New York Times bestselling author Ryukishi07's Rose Guns Days begins anew on Primavera's doorstep!
PUELLA MAGI ORIKO MAGICA SADNESS PRAYER
Story by Magica Quartet
Art by Kuroe Mura
The prequel to Puella Magi Oriko Magica, a spinoff of the critically bestselling Madoka Magica Franchise!
KINIRO MOSAIC
By Yui Hara
A delightful series of four-panel comics recounting the school adventures of Shinobu, Alice, Karen, Youko, and Aya!
TOHYOU GAME
Original Story by Chihiro & Goo
Art by Tatsuhiko
The class popularity contest was supposed to be for fun…but now the unpopular ones are dying grisly deaths. The classroom has become a horrific struggle for survival. Someone is keeping the game going, but who? Can anyone survive the game and expose the truth?
SCUM'S WISH
By Mengo Yokoyari
Mugi and Hanabi are the perfect high school couple…but their relationship is built on a single shared secret: they're both in love with someone else.
YANA TOBOSO BLACK BUTLER ARTWORKS 2
By Yana Toboso
The second full-color illustration collection by manga artist Yana Toboso, creator of the the New York Times bestselling manga series Black Butler!
SOUL EATER SOUL ART 2
By Atsushi Ohkubo
The second art book for the New York Times bestselling manga series Soul Eater and Soul Eater NOT! from creator Atsushi Ohkubo.
---
Humberto Saabedra is the Owner of AnimeNews.biz and a part-time recording engineer. He can also be found musing on things at @AnimeNewsdotbiz