8th "PreCure All Stars" film ranks 8th in its 2nd weekend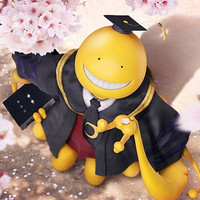 The highly-anticipated second and final live-action film adaptation of Yusei Matsui's Ansatsu Kyoushitsu/Assassination Classroom manga, Sotsugyo-hen (Graduation Edition), finally opened on 319 screens across Japan, easily taking the top spot in its first weekend with an astonishing 639,193,900 yen on 544,641 admission. The first weekend gross is 155.6 percent of the fist film released in March 2015, which earned 2.77 billion yen from its total run. Now 4 billion yen is a possible target for the second film.
Meanwhile, the internationally successful film Batman v Superman: Dawn of Justice bombed at the Japanese box office. Despite the high expectations, it earned a not-so-impressive 371,254,400 yen on Saturday and Sunday from 717 screens (more than twice of Assassination Classroom) in Japan, where people have not much interest in American superhero comics and their live-action film adaptations. Batman v Superman is expected to finish its Japanese run with around 1.5 billion yen (as
reported, the Girl und Panzer film has already made more than that).
Japan's Weekend Box Office (March 26-27)
1 (new). "Ansatsu Kyoushitsu: Sotsugyo-hen"
2 (1). "Doraemon: Nobita and the Birth of Japan 2016"
3 (new). "Batman v Superman: Dawn of Justice"
4 (new). "Kamen Rider Ichi-gou"
5 (2). "Boku Dake ga Inai Machi"
6 (3). "The Good Dinosaur"
7 (4). "Chihayafuru - Kami no Ku"
8 (6). "PreCure All Stars: Minna de Utau♪ Kiseki no Mahou!"
9 (7). "Kazoku wa Tsuraiyo"
10 (5). "Everest: Kamigami no Itadaki "
"Ansatsu Kyoushitsu: Sotsugyo-hen" poster visual
Source: Eiga.com