Starts 4/2 at 3:30PM PST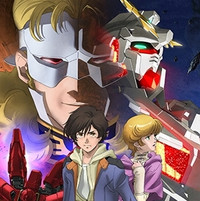 Citizens of the Universal Century! Prepare yourself for a new spring anime announcement from Crunchyroll! MOBILE SUIT GUNDAM UNICORN RE:0096 is set to begin streaming starting April 2nd at 3:30PM PST, and will be available to Crunchyroll Members worldwide excluding Asia.
MOBILE SUIT GUNDAM UNICORN RE:0096 is a new version of the 2010 - 2014 Mobile Suit Gundam Unicorn OVA, based on Harutoshi Fukui's novels set in the "Universal Century" time line of the Mobile Suit Gundam franchise
MOBILE SUIT GUNDAM UNICORN RE:0096 will feature new animation by Sunrise and will feature a new opening and ending with new songs "Into the Sky" from SawanoHiroyuki[nZk]:Tielle and "bL∞dy f8 -eUC-" by SawanoHiroyuki[nZk]:Aimer
MOBILE SUIT GUNDAM UNICORN RE:0096 Story
Once again...

Will you be able to survive?

U.C. 0001...

A new era begins with the settlement of space. But as the ceremonial transition from the A.D. to the U.C. (Universal Century) era is in progress, the space station Laplace, official residence of the Earth Federation prime minister, is shattered by a terrorist bombing.

A young man named Syam, who joined the terrorists because of poverty, is caught in the explosion of Laplace and discovers something amid the wreckage. This is the forbidden box that will later be known as Laplace's Box.

U.C. 0096...

Three years have passed since Char's Rebellion. On the surface, it appears that tranquility has returned to a world which has been troubled by conflict ever since the One Year War.

Banagher Links, a boy living at the manufacturing colony Industrial 7, meets a mysterious girl who calls herself Audrey Burne. Audrey has taken independent action to stop the Vist Foundation from handing over Laplace's Box to the Neo Zeon remnants known as the Sleeves, and Banagher decides to help her. But the colony becomes a battlefield as fighting breaks out between the Sleeves and the Earth Federation Forces, who have also come to prevent the handover. As Banagher runs through the battle in search of Audrey, he has a fateful encounter with a white mobile suit, the Unicorn Gundam, which is the key to Laplace's Box.

What is Laplace's Box?

What secret does the Box contain?

The hundred-year curse of the Universal Century is about to be resolved.
CHARACTERS
BANAGHER LINKS
AUDREY BURNE
FULL FRONTAL
MARIDA CRUZ
UNICORN GUNDAM(UNICORN MODE)
UNICORN GUNDAM(DESTROY MODE)
SINANJU