New season to launch in April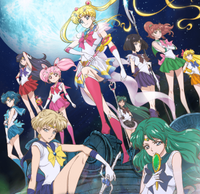 Crunchyroll is proud to announce its latest addition to its growing Spring show catalog with the return of Sailor Moon Crystal. The third season will launch in April and will be available to Crunchyroll members in the US, Canada, South Africa, Australia, New Zealand, Latin America, Central and South America, including the Caribbean.
Synopsis
Based on Naoko Takeuchi's legendary manga series, Sailor Moon Crystal retells the story of Sailor Moon as she searches for her fellow Sailor Guardians and the Legendary Silver Crystal to stop the dark forces of Queen Beryl.