Rin will be shipped in August, Hane will follow one month later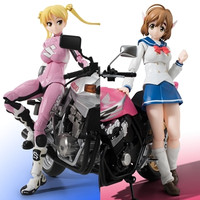 As we previously reported in our fifth Anime Japan 2016 photo report, Bandai has listed two S.H.Figuarts figures from the BAKUON!! TV anime, Rin Suzunoki with her Suzuki GSX400S Katana and Hane Sakura with her Honda CB400 SUPER FOUR. Japanese retailers has already started accepting pre-orders for the Rin figure for an August 2016 release, and pre-orders for the Hane figure will start on April 28 for a September release. Check the official product photos released by Bandai below.
The TV anime BAKUON!! is available to Crunchyroll members in the following territories: USA, Canada, UK, Ireland, South Africa, the Netherlands, Scandinavia, and Turkey.
Rin Suzunoki & Suzuki GSX400S Katana (12,960 yen/August 2016 release)
---
Hane Sakura & Honda CB400 SUPER FOUR (12,960 yen/September 2016 release)
---
Photos from Anime Japan 2016 (TMS Entertainment booth)
Flyer with stickers
Source: Bandai press release
© Mimana Orimoto, Akita Shoten/Young Champion Retsu
© Mimana Orimoto (Young Champion Retsu)/"BAKUON!!" Production Committee