First episode is now available on Crunchyroll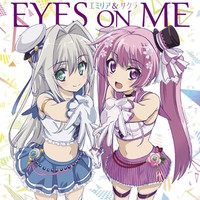 On the the anime's TV premiere day, avex posted previews for the OP and ED song for the TV anime adaptation of Jun Misaki's popular light novel series Hundred on its official YouTube channel. The TV anime is one of the 10th anniversary projects for SB Creative's light novel imprint GA Bunko.
The OP theme "BLOODRED" is performed by newly-formed unit D-Selections, which consists of five artists who belong to avex's anime music label DIVEⅡentertainment: Tatsuyuki Kobayashi, Azuki Shibuya, Yuuki Wakai, Yoshino Aoyama, and Mayu Yoshioka. And the 1st episode's ED theme "EYES ON ME" is sung by two voice actresses of the anime, Rumi Ohkubo (Emilia Hammett) and Mayu Yoshioka (Sakura Kirishima). Both CD singles will be released on May 25.
The Hundred TV anime is available to Crunchyroll members worldwide except for Asia.
"BLOODRED" by D-Selections
Limited edition CD jacket photo
Regular edition
"EYES ON ME" by Rumi Ohkubo (Emilia Hammett), Mayu Yoshioka (Sakura Kirishima)
CD jacket illustration
Source: "Hundred" TV anime official website, Twitter
© Jun Misaki. SB Creative/Hundred production Committee