Starts 4/9 at 9:30am PST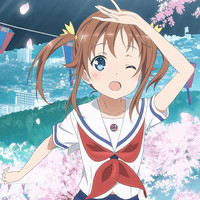 Ahoy! Another new streaming anime announcement comes sailing into Crunchyroll today in the form of Haifuri, an original anime from creative veterans of K-ON! and Girls und Panzer.
Haifuri begins streaming Saturday, 4/9, at 9:30am PST and is available to members in North America, Central America, South America, UK, Ireland, Australia, and New Zealand
The series follows a group students training to protect the seas as Blue Mermaids at an all-girls school specializing in training its students in maritime skill and culture.
About Haifuri
Living by the sea, protecting the sea, and journeying across the sea…They're the BLUE MERMAIDS! Because of a shift in tectonic plates around 100 years ago, Japan lost much of its area to submergence. To preserve Japan's territories, Coastal Cities sprung up, one after the other. Eventually, they became Marine Cities, and along with the expansion of sea-lanes to connect them, the need arose for a sizable staff to protect the seas. At the same time, maritime jobs were becoming more popular among women. Hence, the BLUE MERMAIDS, tasked with keeping the seas safe, had become every female student's dream job. This is when childhood friends Akeno Misaki and Moeka China enroll in a marine high school in Yokosuka, along with other girls who share their goal of "BECOMING A BLUE MERMAID."
19-year-old anime voice actress Shiina Natsukawa is cast as Akeno Misaki
Main staff:
Director: Yu Nobuta (A Good Librarian Like A Good Shepherd)
Series Coposition/Scenario: Reiko Yoshida (K-ON!, Girls und Panzer)
Original Character Design: Atto (Non Non Biyori)
Anime Character Design/Chief Animation Director: Naoto Nakamura (Mekakucity Actors, Sword Art Online II)
Color Design: Hitomi Ikeda
Background Arts: Head Work
Anime Productiom: Production IMS (The Testament of Sister New Devil, Active Raid)
Promo Video