Starts Saturday, April 9 at 12:30pm PT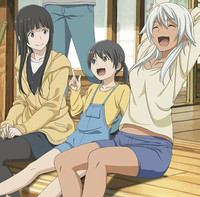 Whoosh! Here comes another new anime announcement at Crunchyroll: Flying Witch, based on the manga by Chihiro Ichizuka, is set to begin streaming soon!
Flying Witch
starts Saturday, April 9 at 12:30pm PT and is available to Crunchyroll members in the
United States, Canada, Central and South America (including the Caribbean), Australia and New Zealand, South Africa, Europe, the Middle East, and North Africa
The original Flying Witch manga by Chihiro Ichizuka is serialized in Kodansha's Bessatsu Shōnen Magazine manga anthology magazine. The Flying Witch TV series is directed by Katsushi Sakurabi and written by Deko Akao, and it features animation by J.C. Staff.
About Flying Witch
Aomori, Japan
In a land blessed by nature's bountiful beauty, bizarre things begin to take place. Makoto Kowata, 15 years old, is a professional witch. She left Yokohama with Chito, her black cat, to live in the house of her relatives in Aomori. This is where she begins to train as a witch.
Even though Makoto's powers are still limited to just flying through the sky, she and her second cousins Kei and Chinatsu surely make the most out of each and every day.
Staff includes:
Director: Katsushi Sakurabi (Heaven's Memo Pad, Tsukihime)
Series Composition: Deko Akao (Snow White with the Red Hair, Mysterious Girlfriend X)
Character Designer: Masato Anno
Animation Production: J.C. Staff
CAST AND CHARACTERS
Minami Shinoda as Makoto Kowata, a witch with an easy-going personality and a poor sense of direction. Makoto moved to Aomori to enroll in high school and to continue her studies toward becoming a fully-fledged witch. Currently she lives in the Kuramoto household and is a bit of a freeloader.
Eri Suzuki as Chinatsu Kuramoto, a lively and inquisitive grade school student and also Makoto's cousin. Chinatsu enjoys food, but doesn't like bitter dishes, which she claims are a "grown-up taste". After meeting Makoto, Chinatsu also wants to become a witch.
Shinsuke Sugawara as Kei Kuramoto, Chinatsu's elder brother and the oldest child of the Kuramoto household. Kei is the same age as Makoto and goes to the same school. Kei is good at cooking, cleaning, and housework, and is known for maintaining a philosophical outlook, but he has a weakness for ghost stories, which scare him silly.
PROMO VIDEO