Starts Friday, April 15 at 11am PT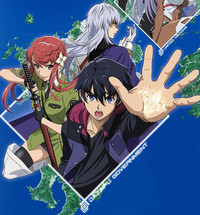 It's another big day here at Crunchyoll filled with big brawny new announcements, including the first title of the day: BIG ORDER, based on the manga by Sakae Esuno of Future Diary fame.
BIG ORDER
is set to begin streaming starting Friday, April 15 at 11am PT and will be
available to Crunchyroll members worldwide except Asia.
About BIG ORDER
This is a story that begins after the world ends.
One day, a new student transfers to the school attended by the story's protagonist, Hoshimiya Eiji. She's an attractive girl named Kurenai Rin, and Eiji immediately wants to get closer to her. Then, as Eiji is on his way home from school, who should appear behind him but the new student, Rin?! The latest work by Esuno Sakae, the author of Mirai Nikki, is finally getting an anime!
Original Story: Sakae Esuno
Series Composition/Scenarios: Katsuhiko Takayama (Aldnoah.Zero, Triage X)
Character Design: Tomoka Kojima (Sword Art Online, Tokyo ESP episode animation director)
Director: Nobuharu Kamanaka (Tokyo ESP, Oreca Battle episode director)
Anime Production: Asread (Mirai Nikki, Yu-Shibu)
Production: Big Order Production Committee
Voice Cast:
Eiji Hoshimiya: Masakazu Morita
Rin Kurenai: Shiori Mikami
Iyo: Azusa Tadokoro
Sena Hoshimiya: Misaki Kuno
Daisy: Mari Misaki
Gennai Hoshimiya: Satoshi Tsuruoka
Ayahito Sundan: Yuu Hayashi
Benkei Narukami: Fumihiko Tachiki
Kagekiyo Tairano: Hitomi Harada
Yoshitsune Hiiragi: Shinnosuke Tachibana
Abraham Louis Fran: Tarusuke Shingaki
BONUS! A selection of BIG ORDER manga covers!
1st and 2nd volume covers
3rd and 4th
5th and 6th
7th