Anime estreia neste sábado para o Brasil e Portugal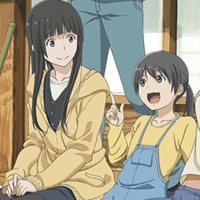 Dos 60 animes lançados no Japão nesta temporada, metade você encontra aqui na Crunchyroll! E ainda temos mais, confira!
Desta vez, trouxemos para você Flying Witch, a nova produção do estúdio J.C Staff (Shokugeki no Soma, Toradora!) baseado no mangá de Chikai Ishioka e traz a excelente Deko Akao (Arakawa Under the Bridge, Nazo no Kanojo X) na roteirização.
Disponível para os nossos membros Premium do Brasil e de Portugal, Flying Witch estreia neste sábado, 9 de abril, às 16h30 (BRT) / 19h30 (GMT). Não percam!!
Aomori, Japão.
Na terra abençoada pela abundante beleza da natureza, coisas bizarras acontecem. Makoto Kowata, 15 anos, é uma bruxa profissional. Ela deixa Yokohama com Chito, sua gata preta, para viver na casa de seus parentes em Aomori. É onde ela começa a treinar sua vida de bruxa.
Apesar de os poderes de Makoto serem limitados a apenas voar pelos céus, ela e seus primos de segundo grau Kei e Chinatsu certamente vão aproveitar ao máximo cada dia.
Conversem conosco pelos perfis oficiais no Twitter, no Facebook e no Google+ e fiquem por dentro de todas as novidades! Fiquem de olho nas CrunchyNotícias e da nossa Programação e discutam as novidades no fórum!
Assistam aos episódios pelo site da Crunchyroll.pt ou pelos nossos aplicativos. Membros com Assinatura Premium+ da Crunchyroll possuem acesso a todos os animes e dramas com qualidade em alta definição e sem propagandas! Conheçam nossos Planos de Assinatura!
Títulos da Temporada de Primavera 2016
07/03/2016 - Kiznaiver
21/03/2016 - Sousei no Onmyouji
21/03/2016 - Unhappy
21/03/2016 - Gakusen Toshi Asterisk S2
22/03/2016 - Re: Zero -Kara Hajimeru Isekai Seikatsu-
22/03/2016 - JoJo no Kimyou na Bouken 4 - Diamond wa Kudakenai
23/03/2016 - TERRAFORMARS REVENGE
24/03/2016 - Ushio to Tora S2
25/03/2016 - Hundred
26/03/2016 - Joker Game
26/03/2016 - KAGEWANI -II-
29/03/2016 - Bungo Stray Dogs
29/03/2016 - Super Lovers
30/03/2016 - Kidou Senshi Gundam Unicorn RE:0096
31/03/2016 - Sailor Moon Crystal S3
01/04/2016 - Mayoiga
01/04/2016 - Gyakuten Saiban
02/04/2016 - Uchuu Patrol Luluco
02/04/2016 - Pan de Peace!
03/04/2016 - Kaitou Joker
04/04/2016 - Seisen Cerberus: Ryuukoku no Fatalité
04/04/2016 - Shonen Ashibe GO! GO! Goma-chan
05/04/2016 - Tanaka-kun wa Itsumo Kedaruge
05/04/2016 - Bakuon!!
05/04/2016 - Crane Game Girls
06/04/2016 - Sakamoto desu ga?
06/04/2016 - Hai Furi
06/04/2016 - Tonkatsu DJ Agetaro
07/04/2016 - Big Order
07/04/2016 - Flying Witch
??/04/2016 - ????
---
Swyyy é editora-chefe da CrunchyNotícias pela Crunchyroll.pt.
Encontre-a fazendo otakices em seu perfil @SwyTeofilo.