Directed by Yoshitaka Yamaguchi (Arcana, Neko Zamirai)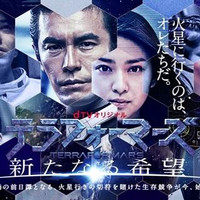 NTT DoCoMo's online-video service dTV has released a trailer for the upcoming live-action web drama Terra Formars/Aratanaru Kibou (A New Hope). The prequel will start streaming on April 24, five days before the theatrical release of the Takashi Miike-directed feature film in Japan. The story is set in a laboratory before Bugs 2's launch to the Mars, explaining how the final crew members were chosen.
Yoshitaka Yamaguchi (Arcana, Neko Zamurai) directs the prequel drama, while Miike supervises. In addition to
the fim's main cast Hideaki Ito, Saki Takei, Mariko Shinoda, Rinko Kikuchi and Masaya Kato, Kento Hayashi
(Aigami in Yu-Gi-Oh!: The Dark Side of Dimensions), Tetsuya Sugaya (TOKYO TRIBE), Takemi Fujii (Tokyo
Shatter Girl), and Saki Takaoka (Eve Tokimatsuri in Megazone 23 - Part III) newly join. The film's theme song
"BREAK OF DAWN" by Sandaime J Soul Brothers is also used for the web drama.
PV featuring the theme song "BREAK OF DAWN"
Source: "Terra Formars" live-action film official Twitter
© Yu Sasuga, Kenichi Tachibana/Shueisha Inc.
© 2016 Movie "Terra Formars" Production Committee