"Gainax Marche" offers organically grown tomatoes and their juices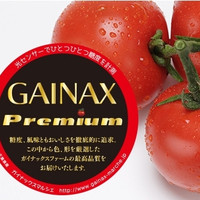 Acclaimed anime production company Gainax, known for Neon Genesis Evangelion and Tengen Toppa Gurren Lagann, has opened "Gainax Marche," its first vegetable store that specializes in high sugar content fruit tomatoes and juice products on the first floor of the Kitano Koubou no Machi (Kitano Meister Garden) in Kobe-city, Hyogo Prefecture. The place, using the former Kitano Elementary School building, has many Kobe brand-name stores that offer local bakeries, traditional sweets, sake, and handmade crafts. Ganinax's recently announced Kansai branch Gainax West is also scheduled to be located in the same city.
The actual operation of the store and culture of the organically grown tomatoes are outsourced to the Tokyo-based company Organic Soil. All of the products are now also available on their online store.
神戸の体験型観光スポット「北野工房のまち」1階グルメフロアに3月20日、高糖度フルーツトマトなどを扱う「ガイナックスマルシェ神戸市場」をオープンしました。
■記事はこちらhttps://t.co/cO8fMmrS34 pic.twitter.com/skFDuwQYjU

— 神戸経済新聞 (@kobekeizai) April 1, 2016
Source: Kobe Keizai Shimbun