"PreCure All Stars" film still ranks in the top 10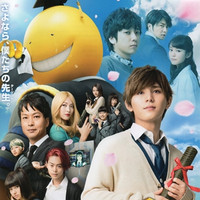 Even after the school spring break ended (usually on April 6), its momentum is still strong at Japan's box office. In its third weekend, the second and last live-action film adaptation of Yusei Matsui's Ansatsu Kyoushitsu/Assassination Classroom manga, Sotsugyo-hen (Graduation Edition), still held the No. 1 spot with 201,085,000 yen on 167,429 admissions for three weeks in a row. The second film has already surpassed the first film's total domestic gross of 2.77 billion yen, and will soon reach the 2.9 billion yen mark and will attract 2.6 million moviegoers.
Meanwhile, the highly well-received 8th All Stars film (20th in the whole PreCure franchise), PreCure All Stars: Minna de Utau♪ Kiseki no Mahou! (Sung by Everyone♪ Miracle Magic!), still ranked in the top 10 in its fourth weekend. The two PreCure films released in 2015 disappeared from the top 10 in three weeks. Many critics and fans have praised the film for its well-organized screenplay, highly detailed action scenes with great animations, and musical score performed by the PreCure voice cast and two
professional musical actors, Seiko Niizuma and Kouji Yamamoto.
Japan's Weekend Box Office (April 9-10)
1 (1). "Ansatsu Kyoushitsu: Sotsugyo-hen"
2 (2). "Doraemon: Nobita and the Birth of Japan 2016"
3 (3). "Batman v Superman: Dawn of Justice"
4 (7). "Chihayafuru - Kami no Ku"
5 (7). "Boku Dake ga Inai Machi"
6 (5). "The Good Dinosaur"
7 (6). "Kamen Rider Ichi-gou"
8 (new). "Room"
9 (9). "Ayashii Kanojyo"
10 (8). "PreCure All Stars: Minna de Utau♪ Kiseki no Mahou!"
"Ansatsu Kyoushitsu: Sotsugyo-hen" flyer visual
"PreCure All Stars: Minna de Utau♪ Kiseki no Mahou!" trailer
Source: Eiga.com, Movie Walker