"Sword Art Online Alternative: Gun Gale Online - Third Squad Jam Betrayer's Choice" uses 57 katakana characters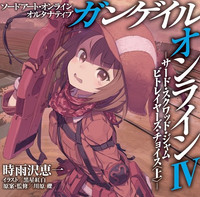 Distressed by the increasingly lengthy titles of popular light novels, Japanese media website CUPO conducted a survey of all of the light novels published in Japan from April of 2015 until March of 2016 to determine which light novel deserves the honor of possessing the "Longest Light Novel Title of 2015".
The rules of the survey were simple: count all the characters in the light novel's title and subtitle. Volume numbers were excluded, and when a special edition version of the light novel exists (with extra goodies such as drama CDs packed in), only the title of the standard edition was used to determine the total character count.
First place went to Sword Art Online Alternative: Gun Gale Online - Third Squad Jam Betrayer's Choice (written by Keichi Sigsawa and illustrated by Kouhaku Kuroboshi), which weighs in with a whopping 57 katakana characters.
Second place went to Yūsha ga Shuraba Sugite Sekai o Sukutteru Baai Janai Maō no Noroi de Hiroin-tachi o Dōji Kōryaku Shinakereba Narimasen (written by Ryo Iwanami and illustrated by Munyuu), whose title includes 47 characters in kanji, katakana, and hiragana. The title translates as: "Not Only Does the Hero Have to Save the World from Complete Destruction, but He Also Has to Save the Heroines from the Devil-King's Curse At the Same Time." (Try saying that three times quickly.)
Koko wa Isekai Konbini Daemon Eleven - Okyakusama, Kaifuku Mahō o Kakenagara no Tachiyomi wa Go Enryo Kudasai! (written by Kenta Dairaku and illustrated by Takashi Konno) and Sword Art Online: Gun Gale Online - Second Squad Jam (written by Keiichi Sigsawa and illustrated by Kouhaku Kuroboshi) were tied for third place, with 46 characters each. The title of the former translates to: "Here is a Convenience Store, Daemon Eleven, in a Different World - Customers, Please Refrain from Casting Recovery Magic While Browsing!"
If all of these titles seem like too much of a mouthful, don't despair. CUPO also determined that the average length of a light novel title for the 2015 time period was only 15 characters.
Sources:
Culture Lab via Otakomu
Paul Chapman is the host of The Greatest Movie EVER! Podcast and GME! Anime Fun Time.