Fünf ONA-Episoden erzählen die Geschichte der Visual Novel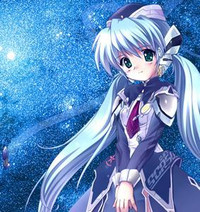 Vor einigen Tagen wurde angekündigt, dass die Visual Novel planetarian von Key (Clannad, Air, Kanon, Little Busters!, Rewrite) vom Animationsstudio David Production (Jojo's Bizarre Adventure) als Anime umgesetzt wird. Nun sind weitere Details bekannt.
Die Geschichte des Spiels wird in Form von fünf Web-Episoden unter dem Titel planetarian: Chiisana Hoshi no Yume (planetarian ~the reverie of a little planet~) umgesetzt werden, von denen die erste am 7. Juli veröffentlicht wird. Zusätzlich soll es einen Film mit dem Titel planetarian: Hoshi no Hito geben, der erzählt, wie es mit dem Protagonisten nach der ursprünglichen Geschichte weitergeht und am 3. September in den japanischen Kinos startet.
Enthüllt wurde weiterhin ein Key Visual und ein Trailer zum Anime:
Folgende Personen sind an der Produktion beteiligt:
Originalwerk: Key/Visual Art's
Regisseur: Naokatsu Tsuda (Jojo's Bizarre Adventure)
Skriptschreiber: Shogo Yasukawa (Terra Formars, Food Wars! Shokugeki no Soma, JoJo's Bizarre Adventure), Tsuda
Series Director: Katsuichi Nakayama (Nishi no Yoki Majo - Astraea Testament), Shunsuke Machitani (Episodenregie bei JoJo's Bizarre Adventure: Stardust Crusaders)
Mechanical Design: Kanetake Ebikawa
Prop Design: Shinya Uchida
Art Setting: Hiroshi Izumi
Color Key: Yuko Sato
Art Director: Yusuke Takeda, Yuuko Sugiyama
3D Director: Yoji Nagasawa
Director of Photography: Arimasa Watanabe
Editing: Kiyoshi Hirose
Sound Director: Takayuki Yamaguchi, Naokatsu Tsuda
Sound Effekte: Yasumasa Koyama
Music: VisualArt's, Shinji Orito, Donmaru, Tomohiro Takeshita
Der Protagonist Kuzuya wird von Daisuke Ono vertont werden, während Keiko Suzuki die Rolle von Yumemi Hoshino übernimmt.
Die Visual Novel ist in englischer Sprache auf Steam erhältlich.
via AnimeNewsNetwork