12-piece trading figure set from Embrace Japan hits stores in Japan in late August of 2016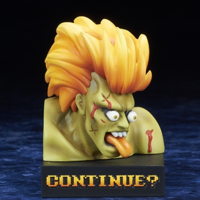 If your fighting game skills are anything like mine, you've probably spent a disproportionate amount of time staring at the "Game Over" screen in Street Fighter II and wondering where all your quarters went.
Fear not, fellow gamer, because Embrace Japan Co., Ltd. is publishing a set of trading figures that encourage you to embrace your inner scrub.
The "Losing Face Collection vol. 01 Street Fighter II" is a set of 12 trading figures reproducing the humiliation of defeat with the iconic characters of Capcom's classic Street Fighter II fighting game. The line-up includes:
Ryu and Sagat.
Ken and Balrog (known as M. Bison in Japan).
Chun Li and Vega (known as Balrog in Japan).
Guile and M. Bison (known as Vega in Japan).
E. Honda and Zangief. (Note how determined E. Honda looks, even in defeat.)
And Blanka (my personal favorite) and Dhalsim.
Each figure is made of painted PVC and stands between 5 and 5.5 centimeters (1.97 to 2.17 inches) tall. Individual figures retail for 864 yen ($7.94 US) including tax. The "Losing Face Collection vol. 01 Street Fighter II" goes on sale in Japan in mid-August of 2016.
Sources:
Official Embrace Japan home page
Paul Chapman is the host of The Greatest Movie EVER! Podcast and GME! Anime Fun Time.