Latest 9th tankobon volume is released today in Japan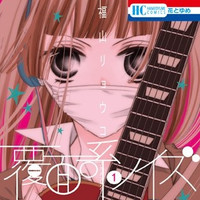 The official website for Hakusensha's biweekly shoujo manga magazine Hana to Yume confirmed today that a TV anime adaptation of Ryoko Fukuyama's Fukumenkei Noise romance manga series is in the works. The news was also announced on the cover of the magazine's 10th issue officially published today in Japan. More details will be followed soon.
The cover of the Hana to Yume 10th issue
Fukuyama is best known for her debut comedy series Nosatu Junkie, that ran for 16 tankobon volumes
from 2003 to 2008. Her third serialization work in Hana to Yume, Fukumenteki Noise has been running
since 2013, and the latest 9th tankobon volume is just published today. The story focuses on the
protagonist girl Nino who loves singing. She is always wearing a mask because she can't stop screaming
when her feelings run high. She experienced two partings in her childhood, one with Momo who was her
first love, and another with Yuzu who was a song-writing boy. When she becomes a high school student,
the three finally meet again.
Tankobon 1st and 9th volume covers
Source: Hana to Yume
© Ryoko Fukuyama/Hakusensha