Blu-ray and DVD will be also offered at the theaters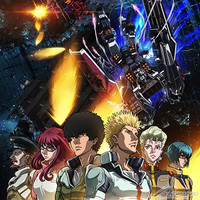 Gundam.Info today announced that Mobile Suit Gundam Thunderbolt: December Sky, the director's cut edition of the four-episode web anime adaptation of Yasuo Ohtagaki's Mobile Suit Gundam Thunderbolt manga, will be screened at selected 15 theaters in Japan from June 25 for a limited time of two weeks. The 70-minute edition will have newly-produced footage that were not included in the web edition.
The first press limited "Complete Edition" DVD/Blu-ray will be sold at the theaters with the screenings from June 25, then the regular edition DVD/Blu-ray will be available at stores on July 29. Advance tickets with earphone jacks featuring the personal emblem of Daryl and Io will go on sale on April 23. Purchasers who get advance tickets for both Gundam Thunderbolt and Gundam The Origin III also receive a collaboration clear file.
"Mobile Suit Gundam Thunderbolt: December Sky" PV (long version)
PV (short version)
Main Visual
Source: Gundam.Info
© Sotsu/Sunrise
© Yasuo Ohtagaki/ SHogakukan