Limited edition advance tickets go on sale at Japanese theaters today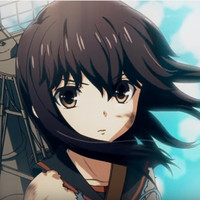 Kadokawa's official anime YouTube channel today posted a 45-second teaser for the upcoming Kantai Collection/KanColle anime feature film, announcing its fall 2016 release. It will be released as Kadokawa Pictures' 40th anniversary title. The first TV anime series was aired for 12 episodes from January to March 2015, and the second season is already in the works.
Kadokawa Pictures was launched as a film division of Kadokawa Shoten in 1975. Its first film was Kon Ichikawa's Inugamike no Ichizoku/The Inugamis based on Seishi Yokomizo's detective fiction featuring Kosuke Kindaichi, portrayed by Koji Ishizaka in the films. It was well known for its contribution to anime film productions in the mid-1980s, such as Rintaro's Genma Taisen/Harmagedon (1983), his Kamui no Ken/The Dagger of Kamui (1985), and Mori Masaki's Toki no Tabibito/Time Stranger (1986).
Teaser
Main visual
Limited edition advance tickets with a postcard set go on sale at Japanese theaters from today
【前売券情報】本日より「劇場版 艦これ」の[劇場限定特典 特別先行前売券]を販売開始しております。特典は[劇場公開記念ポストカードセット]が付きます。取り扱い劇場情報はコチラ。https://t.co/IHDSJNvAIX #艦これ pic.twitter.com/1vxMnnR7te

— アニメ『艦これ』公式 (@anime_KanColle) April 23, 2016
Source: "Kantai Collection/KanColle" anime series official website
© 2016 "Movie KanColle" Combined Fleet Headquarters