Director: "We have already decided how the sequel story would go."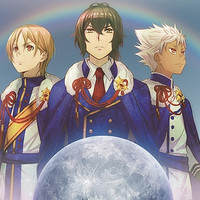 In a recent article posted on Mantan Web on Sunday, it was confirmed that KING OF PRISM by Pretty Rhythm has earned over 300 million yen at the Japanese box office in four months since its release on January 9, 2016. The 59-minute anime film started its run only with 14 theaters, but the total theater count has reached over 90, attracting over 200,000 moviegoers (mostly females in their twenties and thirties).
The all-new film was produced as a spin-off to Pretty Rhythm: Rainbow Live, the third Pretty Rhythm TV anime aired from April 2013 to March 2014, focusing on the three-member male idol unit Over The Rainbow, voiced by Tetsuya Kakihara (Koji Mihama), Tomoaki Maeno (Hiro Hayami) and Toshiki Masuda (Kaduki Nishina).
A mysterious trailer-ish footage is attached in the end of the film. The director of the film Masakazu
Hishida mentioned about the possibility of a sequel in the article, saying, "Currently nothing has been
decided yet, but we all want to do it at heart. To tell the truth, we are making it as a two-part project.
Even if the sequel can't be made, I think the fans can imagine what it would be like with the footage.
We have already decided how the story of the sequel would go. And if it comes real, I hope the fans
will accept it no matter how it ends. "
Trailer
From the "Prism Star Support" screening event at the Shinjuku Wald 9 theater on January 17
Flyer visual
Source: Mantan Web
© T-ARTS/Sophia/King of Prism Production Committee