TV anime is directed by Kazuo Sakai (Gundam AGE, Gundam Build Fighters)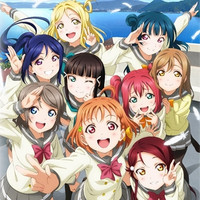 The official website for the Love Live! Sunshine!! project today released a two-minute new PV to introduce all nine members of the new school idol unit Aqours. The site also updated with a new main visual and announced the main staff for the upcoming TV anime slated for this summer.
In stead of the original Love Live! anime series' Takahiko Kyogoku, Kazuo Sakai, who is known for his works for Mobile Suit Gundam AGE and Gundam Build Fighters, is newly served as the director. He previously directed the 7th and 12th episode of the Love Lve! TV anime 1st season and the 11th episode of the 2nd season.
New PV
Main Staff:
Director: Kazuo Sakai (Mobile Suits Gundam AGE, Gundam Build Fighters)
Series Composition: Jukki Hanada (Love Live!, Sound! Euphonium)
Character Design: Yuhei Murota (Love Live!)
Design Works: Masaki Kawake (Doraemon: Nobita's Space Heroes)
CG Director: Go Kurosaki (Rage of Bahamut: Genesis, Gatchaman Crowds)
Music: Tatsuya Kato (Free!, The Disappearance of Nagato Yuki-chan)
Music Production: Lantis
Anime Production: Sunrise
Production: 2016 Project Love Live! Sunshine!!
(Sunrise, Bandai Visual, Lantis, Bushiroad, Kadokawa Ascii Media Works)
Aqours members:
Chika Takami (CV: Inami Anju)
Riko Sakurauchi (Rikako Aida)
Kanan Matsuura (Nanaka Suwa)
Dia Kurosawa (Arisa Komiya)
You Watanabe (Shuka Saito)
Yoshiko Tsushima (Aika Kobayashi)
Hanamaru Kunikida (Kanako Takatsuki)
Mari Ohara (Aina Suzuki)
Ruby Kurosawa (Ai Furihata)
---
1st single "Kimi no Kokoro wa Kagayaiteirukai?" full MV (October 7, 2015)
CD jacket illustration
2nd single "Koi Ni Naritai AQUARIUM" short MV (April 27, 2016)
CD jacket
"Genki Zenkai DAY! DAY! DAY!" by CyaRon! (Chika Takami, Yo Watanabe, Ruby Kurosawa/May 11, 2016)
"Torikoriko PLEASE!!" by AZALEA (Kanan Matsuura, Dia Kurosawa, Hanamaru Kunikida/May 25, 2016
Source: "Love Live! Sunshine!!" official website
© Project Love Live! Sunshine!!