New routes and new characters, too!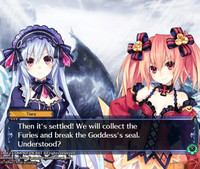 Idea Factory's Fairy Fencer F: Advent Dark Force will be debuting in North America on July 26 and in Europe on July 29 for PlayStation 4, and there's a whole new swath of screenshots for you to check out, including the game's first English shots. This is the expanded version of Fairy Fencer F, Compile Heart's RPG, and it's making the leap to a next-gen console.
In addition to some new screens, there are two new story routes you can take: the Vile Goddess and Evil Goddess routes, which introduce three brand new characters.
Pippin

A strange Fencer whose biological origins are unknown. He's talkative and nags others way too much. A sword is stuck in his head, but it doesn't seem to affect him.
Soji
Pippin's fairy partner. His human appearance causes people to believe he is a Fencer, while Pippin is his fairy. He is familiar with Pippin's supposed father, Pappin.
Pappin
Pippin calls him "Father" but whether Pappin is Pippin's father or not remains a mystery. He's an enigma with a strong allegiance to his path as a Fencer.
[via Gematsu]
-------
Fueled by horror, rainbow-sugar-pixel-rushes, and video games, Brittany is a freelancer who thrives on surrealism and ultraviolence. Follow her on Twitter @MolotovCupcake and check out her portfolio for more.