Wuxia fantasy puppet series is a Japanese / Taiwanese co-production helmed by Gen Urobuchi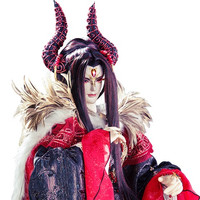 Crunchyroll previously reported on Thunderbolt Fantasy - Dōng lí jiàn yóujì ("Sword Travels from the East"), a Japanese / Taiwanese co-production of a Wuxia fantasy puppet TV series helmed by Gen Urobuchi of Nitroplus with camerawork and puppetry by Pili International Multimedia.
Now information about the series is available: Thunderbolt Fantasy will begin its Japanese broadcast on Tokyo MX and BS-11 beginning in July of 2016. The series will be broadcast on Friday evenings at 11:00PM JST on Tokyo MX, and at 11:30 PM JST on BS-11.
The story of Thunderbolt Fantasy is as follows: many years ago, humans waged a terrible war against the denizens of the Demon Realm. In the process, a series of special Shén Huì Mó Xiè ("Heavenly Instructor Magic Implements") weapons were forged to defeat the forces of the nether-realms. After the war, these sacred weapons were entrusted to the care of special guardians.
The most powerful of these weapons, the Tiān Xíng Jiàn ("Sword of Divine Retribution"), was entrusted to the family of siblings Dān Héng and Dān Fěi. Now the leader of a rival clan, Miè Tiān Hái, will stop at nothing to possess this sword. While on the run from Miè Tiān Hái, Dān Héng and Dān Fěi encounter the mysterious stranger Lǐn Xuě Yā, who aids them in their quest.
In addition to the cast and staff previously announced, Thunderbolt Fantasy will feature:
Rikiya Koyama as the voice of Shòu Yún Xiāo.
Kenichi Suzumura as the voice of Juǎn Cán Yún.
Sayaka Ohara as the voice of Xíng Hài.
Nobuyuki Hiyama as the voice of Shā Wú Shēng.
Daisuke Hirakawa as the voice of Dān Héng.
Kazuhiro Yamaji as the voice of Lián Qí.
Hiroki Yasumoto as the voice of Cán Xiōng.
Haruka Tomatsu as the voice of Liè Mèi.
And Tōru Ōkawa as the voice of Diāo Mìng. Additionally, voice actress Atsuko Tanaka will provide narration for Thunderbolt Fantasy.
Sources:
Official Thunderbolt Fantasy home page
Paul Chapman is the host of The Greatest Movie EVER! Podcast and GME! Anime Fun Time.