Cute meets totally creepy.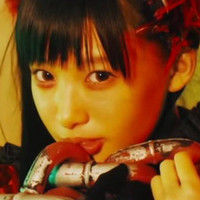 Idol Shiina Pikarin is at it again with a new single, but this time around things are decidedly darker as she's singing about a double-suicide, essentially. That's nothing new for the creepy little pixie if you've seen any of her live shows or are familiar with her. Her latest song is no different!
The dimunitive demon claims to come from Makai, or a type of "hell" in Buddhism, and her latest single "Makai Shinju" really drives that home.
The "20,000-year-old" idol's video finds her mixing her trademark death metal singing with cutesy J-pop and dark visuals, and it's extremely catchy. Check out the single below and see if you can resist hearing it over and over in your head later today. Chances are it'll get stuck.
[via Rocket News 24]
-------
Fueled by horror, rainbow-sugar-pixel-rushes, and video games, Brittany is a freelancer who thrives on surrealism and ultraviolence. Follow her on Twitter @MolotovCupcake and check out her portfolio for more.