"HGBF 1/144 ZZ II" kit from the footage will be also released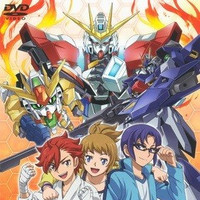 It was officially announced at the ongoing 55th Shizuoka Hobby Show that a newly-produced footage of Sunrise's 2014-2015 TV anime Gundam Build Fighters Try is scheduled to be aired on Japanese TV this August. The one of the largest trade fairs for Japanese scale models is being held at Twin Messe Shizuoka from May 12 to 15.
Gundam Build Fighters Try was aired for 25 episodes from October 2014 to March 2015 as the sequel to the 2013-2014 Gundam Build Fighters. The new anime's content and length have not been confirmed yet.
2016年8月「ガンダムビルドファイターズトライ」スペシャル新作映像TVオンエア決定!
静岡ホビーショーでも告知中です! https://t.co/fcUz2w6hLI #g_bf pic.twitter.com/JmpBr4L8oT

— ガンダムビルドファイターズトライ (@buildfighters) 2016年5月12日
Bandai also revealed three new Gundam plastic model (Gun-Pla) kits at the event: HGBF 1/144 ZZ II,
HGUC 1/144 Hyaku-Shiki (Mobile Suit Z Gundam) and RG 1/144 Sinanju (Mobile Suit Gundam Unicorn
RE:0096). All three kits are scheduled to be released in August, and ZZ II is confirmed to be featured
in the new Gundam Build Fighters Try footage. You can chek the photos from the event, including the
three kits, on the Gundam franchise's official portal site Gundam.Info.
Source: "Gundam Build Fighters" anime official website
© Sotsu, Sunrise, TV Tokyo