Directed by Tatsuya Yoshihara (Yoru no Yatterman, Monster Musume)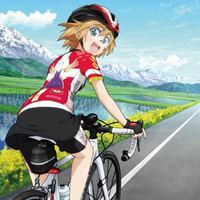 The official teaser site for the upcoming TV anime adaptation of Taishi Miyake's road bike-themed manga Long Riders! opens today with its first main visual featuring the protagonist girl Ami Kurata. The Actas (Girls und Panzer)-produced anime is set to premiere in October 2016, as a standard 30-minute episode series. All of the voice cast in the drama CD bundled with the limited edition of the 3rd tankobon volume released in July 2014 will reprise their roles in the anime as well. The manga has been serialized in Ichijinsha's Monthly Comic Rex since 2012 and the next 7th volume is scheduled to be released on June 27.
27-year-old Tatsuya Yoshihara, well known for his directorial works for Muromi-san, Yoru no Yatterman and Monster Musume, is attached to direct, alongside series composition writer Natsuko Takahashi (Sengoku Basara Judge End, Ore Monogatari!) and character designer Tokiemon Futsuzawa (Wake Up, Girls!, Symphogear GX episode animation director).
Anime visual poster revealed at the GSR Cup cycle race event
また、アニメ『ろんぐらいだぁす!』のビジュアルもGSRカップで初公開となっております。こちらも是非チェックしてください♪#ろんぐらいだぁす #gsrcup pic.twitter.com/0IdHHTibOr

— ろんぐらいだぁす!@アニメ化決定!! (@longriderscomic) May 13, 2016
TVアニメ『ろんぐらいだぁす!』公式サイトがオープンしました☆https://t.co/A6j38bAOlH

そして、キービジュアルも遂に完成‼︎
今年の秋が待ち遠しいです。#ろんぐらいだぁす pic.twitter.com/MeL427CBrQ

— 一迅社の宣伝課です。 (@ichijinsha_info) May 13, 2016
Main Voice Cast:
Ami Kurata: Nao Touyama (Karen Kujo in Kin-iro Mosaic)
Aoi Niigaki: Hiromi Igarashi (Anzu Futaba in The [email protected] Cinderella Girls)
Hinako Saijyo: Rumi Okubo (Ako Shirabe/Cure Muse in Suite PreCure♪)
Yayoi Ichinose: Yurika Kurosawa (Arita three sisters in pupa)
Saki Takamiya: Yoko Hikasa (Mio Akiyama in K-ON!)
Paka-san: Sayako Tojo (Takemaru in Kamisama Kiss◎)
Cycle Cafe owner: Kenjiro Tsuda (Seto Kaiba in Yu-Gi-Oh!)
Source: "Long Riders!" TV anime official website, Twitter
© Taishi Miyake/Ichijinsha